The Castle Castle Accommodation / Castle for Rent
Blackwater Castle is fully approved as an Historic House by Discover Ireland and is steeped in heritage with a history that extends back some 10,000 years.  We have had some distinguished guests down through the centuries ranging from Sir Walter Raleigh in 1580 (who was not exactly welcomed with open arms at the time as he effectively took control of the Castle from Lord Roche), Oliver Cromwell and his general Lord Broghill in 1649 (who certainly left their marks which are visible to this day!), and more recently the late and wonderful Michael Jackson who, we are proud to say, stayed here for 3 weeks in 2006 and found some (in his own words)
"peace and tranquility for me and my kids".
One of the guests of the Castle when it was the seat of Lord Roche, Viscount of Fermoy, was the Lord Deputy of Ireland, Sir Henry Sidney.   Sir Sidney stayed at the then Roche Castle in 1576 and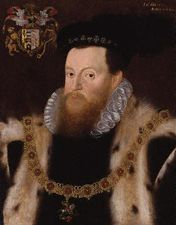 "lodged two nights by the way netherwards at my lo: Roches, where I and all my trayne were verie largely and bountiefullie entertayned". (The Roches, Lords of Fermoy, Eithne Donnelly, p24)
We can assure all Lords Deputy, Monarchs, subjects, Presidents and citizens alike that you will be "verie largely and bountiefullie entertayned" when you opt to stay with us!
Our guests are invited to enjoy all that the Castle and its estate has to offer.  Feel free to browse our extensive multi-lingual library, relax in the Tea Room, play our Baby Grand Piano in the Music Room, explore the history and heritage of the estate, or avail of the extensive amenities on the Castle grounds from fishing in our private river, rambling around our natural woodlands, or engaging in some of the Outdoor Activities based on site.  We have 9 beautifully appointed suites sleeping 23 in total and you can view a slide show of the suites here.
While the Castle is generally let as a private rental on an exclusive basis when availability permits we are happy to take large groups who would like a Guesthouse or B&B experience in a Medieval Castle. Contact us with your particular requirements and we will try to work something out with you however we do not take groups of less than 10 guests.
A stay at Blackwater Castle is certain to be memorable. Patrick Nordstrom the owner, who lives on the grounds with his family, will greet you and show you to your rooms and is in charge of preparing breakfast for you (if you opt to have breakfast with us) which Patrick serves in our south facing Terrace Room overlooking the River Awbeg.  Patrick will be delighted to give you a tour of the Castle as part of your stay and talk you through the fascinating 10,000 year old history of the Castle reflecting all periods of Irish history.  He will happily open up the 15th Century Tower for you (at no extra charge) so you can explore at first hand the magnificent architecture of one of the best kept Norman Keeps in Ireland where history lives on.  As part of your stay you are also welcome to explore the countless additional features on the grounds (including our very own "Blarney Stone") which really make Blackwater Castle a very unique location.
The immediate townland has a lot to offer, in particular the 13th century Bridgetown Priory, along with all that is available in the nearby vibrant village of Castletownroche (5 minutes walk) including a pub museum, The Spinning Wheel, established in 1791.   But don't just take our word for it – please have a look at some independant reviews on Tripadvisor to give you a flavour of what is so unique about a stay at Blackwater Castle.
The Castle has 9 suites, all individually designed and very spacious, and can accomodate 23 in total with 6 double suites, 1 triple suite, 1 twin suite, and 1 family suite (a double with an annex containing 4 single beds).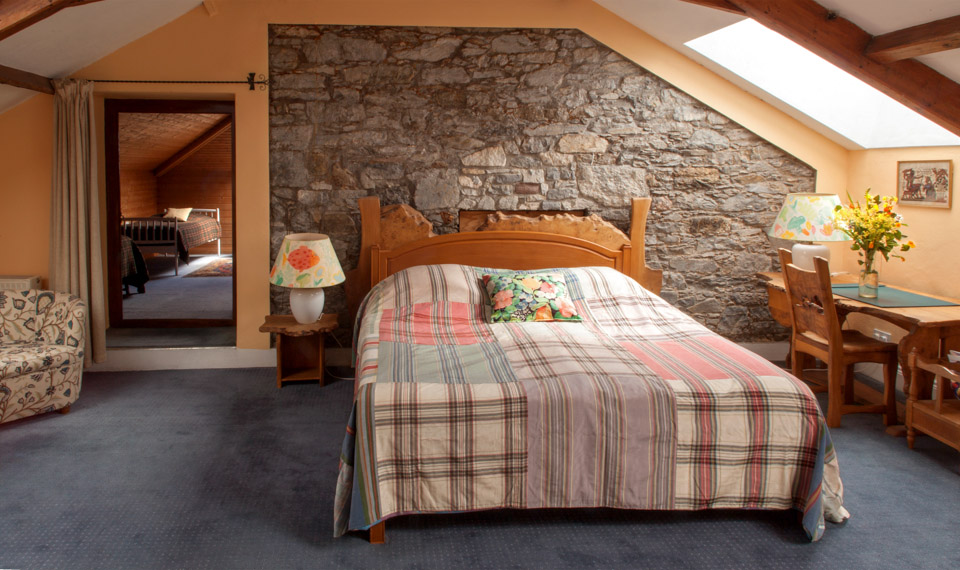 The St. Patrick Family Suite above with (below) the Lady Roche Suite which adjoins the 15th Century Norman Tower.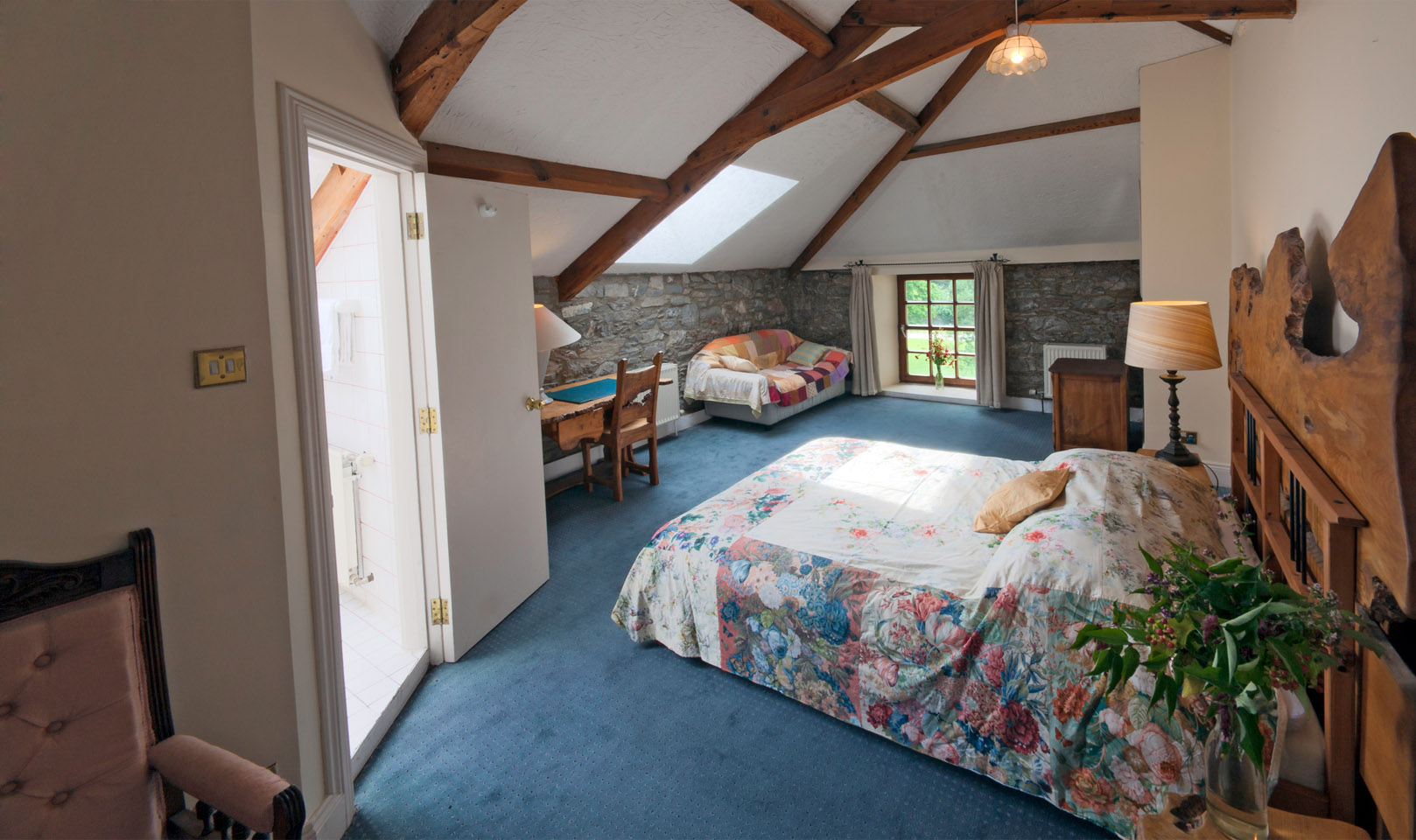 We are very happy to welcome larger groups and we are also flexible in terms of breakfast arrangements and private dining possibilities. Favourable rates are available for groups and those who stay for extended periods of time.  If your requirements don't fit our rates structure please contact us with your specifications and we will give you a quote to suit your particular needs.  We are always very flexible here and can accomodate almost any request.  Call Patrick on 086 1040 306 to talk to him about your particular requirements.
If you are planning on staying in large numbers for 2-3 days or more you might consider opting for one of our special offers for a "Self Catering Castle" where the Castle is reserved on a "Private Hire" basis rather than a "Guesthouse" experience as set out below.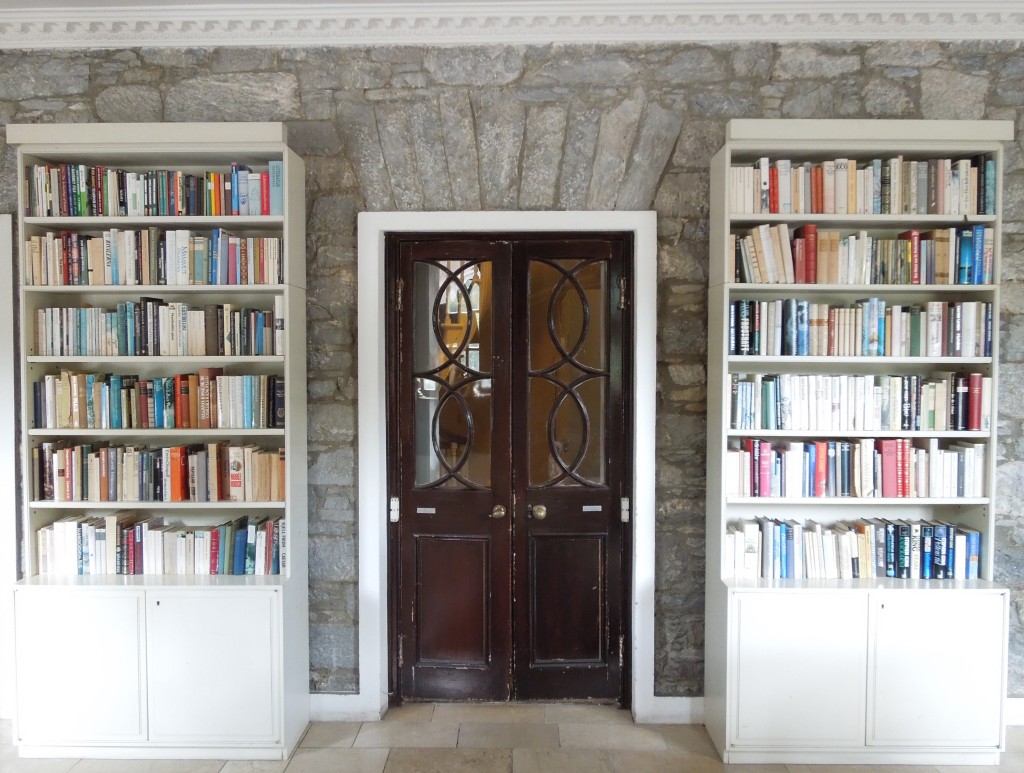 Castle for rent Ireland – Exclusive Private Hire 
Blackwater Castle is an ideal venue for a family reunion or for groups of friends who would like to chill out together and catch up in luxurious surroundings while cooking for themselves and stocking their own private bar.  We can arrange catering if required to cover all tastes and budgets from casual suppers to a fine dining experience.  Everything is possible here at Blackwater Castle and all services can be arranged from housekeeping to babysitting.
Call Patrick on 086 1040 306 to arrange your exclusive self catering holiday in one of Ireland's best preserved 12th Century Castles.
The St. Patrick Suite – A spacious suite with a 4 bed annex.
Blackwater Castle is currently offering an amazing private Castle rental experience – book Blackwater Castle on a self catering basis for one week for an exceptional price of €5,500 (or €3,000 for a 3 day/2 night package – including weekends). This price is an all-inclusive one that covers all your utility costs, towels, bedlinen etc. and allows you exclusive use of the professional kitchen, dining room, Terrace room, Tea Room, Private Bar and Music Room along with all 9 suites of the Castle which sleep 23.  For larger groups the Courtyard accommodation (sleeps 47 in apartments and dorms) can be hired for a further €1,000 for one week.    All the facilities of the Castle grounds will be available to you including relaxing in the Walled Garden, enjoying the Woodland Walks, or fishing in the Castle private river.  The owner of the Castle, Patrick Nordstrom, will also provide a guided tour of the Castle and grounds.   We also have an Outdoor Activity Centre based on site so adrenalin junkies can get their kicks here too!
The Lady Roche Suite – a somewhat feminine room located adjacent to the 15th Century Norman Keep.
Our exquisite home in beautiful historic surroundings – offers you:
A heritage extending back some 9,000 years.
Outstanding natural beauty with mature woodlands and river walks.
Private stretch of River Awbeg – ideal for fly fishing (rods available).
Outdoor Activity Centre based on site.
Walled Garden accessible to guests – pick your own fruit!
Explore the Castle Maze.
Extensive multi-lingual library.
Historical tours led by owner.
Within walking distance (5 mins) of vibrant village of Castletownroche.
Within walking distance (30 mins) of 13th Century Bridgetown Abbey.
Fully equipped professional kitchen and private bar.
Self catering, partial and full catering options available.
Flexible terms – short stays available.
9 suites in Castle sleep 23 (6 double & 1 twin suites, 1 double suite with single, 1 family suite with double and 4 singles).
Garden Dormitories sleep 40.
One 4 bed family Garden Apartment sleeps 7.
A warm welcome from owners who live in Courtyard and are discreetly available if required.
The Brian Boru Suite located on the top floor of the Castle.
.
Make Blackwater Castle your home from home!
Call Patrick on 086 1040 306 or Sheila on 087 971 o854 to arrange your exclusive event, private party or self catering holiday in one of Ireland's best preserved 12th Century Castles.   We are open to all suggestions so if you have an idea as to how you would like to create your own special gathering or event at Blackwater Castle,  Patrick will be happy to talk it through with you.